A new migration policy announced by the ministry of labor in September aims to restrict the arrival of repatriates. Once a big symbolic program of newly independent Kazakhstan, the repatriation of ethnic Kazakhs is now filtered through an economic lens.
In the 1990s, Kazakhstan experienced a large outbound migration, especially of ethnic Russians. In an effort to compensate for the demographic imbalance, the government opened its arms to ethnic Kazakhs wishing to "return to their homeland." Since then, however, policies gradually changed for the worse and the newly-adopted policy might push the repatriation program farther away from its original intent.
Now a social activist, Yrysbek Toktasyn was 16 when he set foot in the country of his ancestors for the first time. His grandfather had moved eastward to what is now the Altay Prefecture of Xinjiang in 1927, during the Soviet forced collectivization.
"My grandmother escaped during the famine when she was eleven. That's where she met my grandfather," Yrysbek recalls.
Almost seventy years later, in 1995, Yrysbek crossed the border in the opposite direction, alone, as his parents pushed him to go and study in Almaty.
"When I was a kid, I didn't really think about moving. We knew Kazakhstan existed, but it was a part of the Soviet Union. Altay felt like our land, our home, to be honest. Although we were part of China, we were far from Beijing. We thought our future would be in Altay. And then when Kazakhstan gained its independence, everything changed."

Yrysbek was sent to Kazakhstan as a scout, as much to study as to pave the way for more people to settle.
Like many other ethnic Kazakhs from foreign countries, Yrysbek's parents answered the call of then-president Nursultan Nazarbayev, inviting them back to their homeland with the promise of a fast-track to full citizenship. This was colloquially called the Oralman Program.
From nation-building to economic selection
According to the new blueprint of migration policies for 2023 to 2027 released in September, going forward the government will favor relocation to labor-deficient regions - namely the northern regions. Additionally, the once-straightforward path to citizenship reserved for Qandastar (a new monicker for the returnees, who participated in the Oralman Program) was scrapped, putting returnees on an equal footing with any other foreigner residing in Kazakhstan.
"The attitude of the government towards Qandastar has changed. This is not how you treat someone that you call your blood brother. Now the repatriates are considered purely as a labor force. Because the settlement program to the north failed, now they want to force it and it really seems like blackmail," explains Yrysbek.
Along with other members of civil society, he expressed his concerns towards the new direction of migration policies in a press-conference on September 19.
After canceling quotas allocated to returnees in 2012, the government rebooted the program two years later, with a strategic purpose.
As scholar of the Qandastar question Berikbol Dukeyev explains in a policy paper, "the Ukrainian crisis and Russia's annexation of Crimea in March 2014 caused the Kazakhstani authorities great concern. The claims that some Russian nationalists made on the northern Kazakhstan territories, and occasional separatist appeals in the Russian-based social network VKontakte by residents of the northern Kazakhstan oblasts, set off alarms for the authorities."
After 2014, nation-building objectives seemed to converge with economic ones, yet the settlement program failed to provide sufficient incentive for returnees to settle in the long term. The new policy might now deteriorate the situation of the newly returned, already facing long-standing difficulties of adaptation.
According to Yrysbek, those who returned from the north are disillusioned with the government settlement assistance. "People there cannot get a job, or settle for low wages jobs. Even if they were qualified in another country, they cannot get the same position here. And then, the language barrier. Everyone speaks Russian there. It is easier to adapt and to earn money in Almaty. And we are used to living in communities. We can't live alone - we need relatives and social connections around us. With an effective migration program, people would consider going there to settle with their family, " Yrysbek explains.
Long-running difficulties
Back in the 1990s when he settled in Kazakhstan, Yrysbek was offered to go study in Semey, a city in the north-east of the country. But with no financial help or social relations there, he decided not to go. "At least in Almaty, we had a small community of Kazakhs from China. We could support each other and it was easier to earn some money" he recalls. Even at the time adaptation was not easy for returnees.
Freshly arrived from a land mostly inhabited by Kazakhs, young Yrysbek had a hard time grappling with the largely Soviet-imbued culture and language of his new homeland. "I didn't speak Russian and because of that I struggled a lot. I couldn't read the Cyrillic alphabet either. As a migrant, I was faced with a lot of bureaucracy. The language barrier was the hardest thing and the attitude of people in the administration especially was not friendly or brotherly," he said during our interview.
Bureaucratic and linguistic hurdles meant that citizenship was difficult to obtain. Without citizenship, the repatriates could not access electronic government services, medical assistance or put their children in kindergarten. "When they appear in front of officials, they are asked for bribes, because they don't have rights or just don't know about them. It is an open way to corruption. Instead of making them feel free and equal, we treat them as second class citizens," warned political activist Rysbek Sarsenbai at the press-conference in September.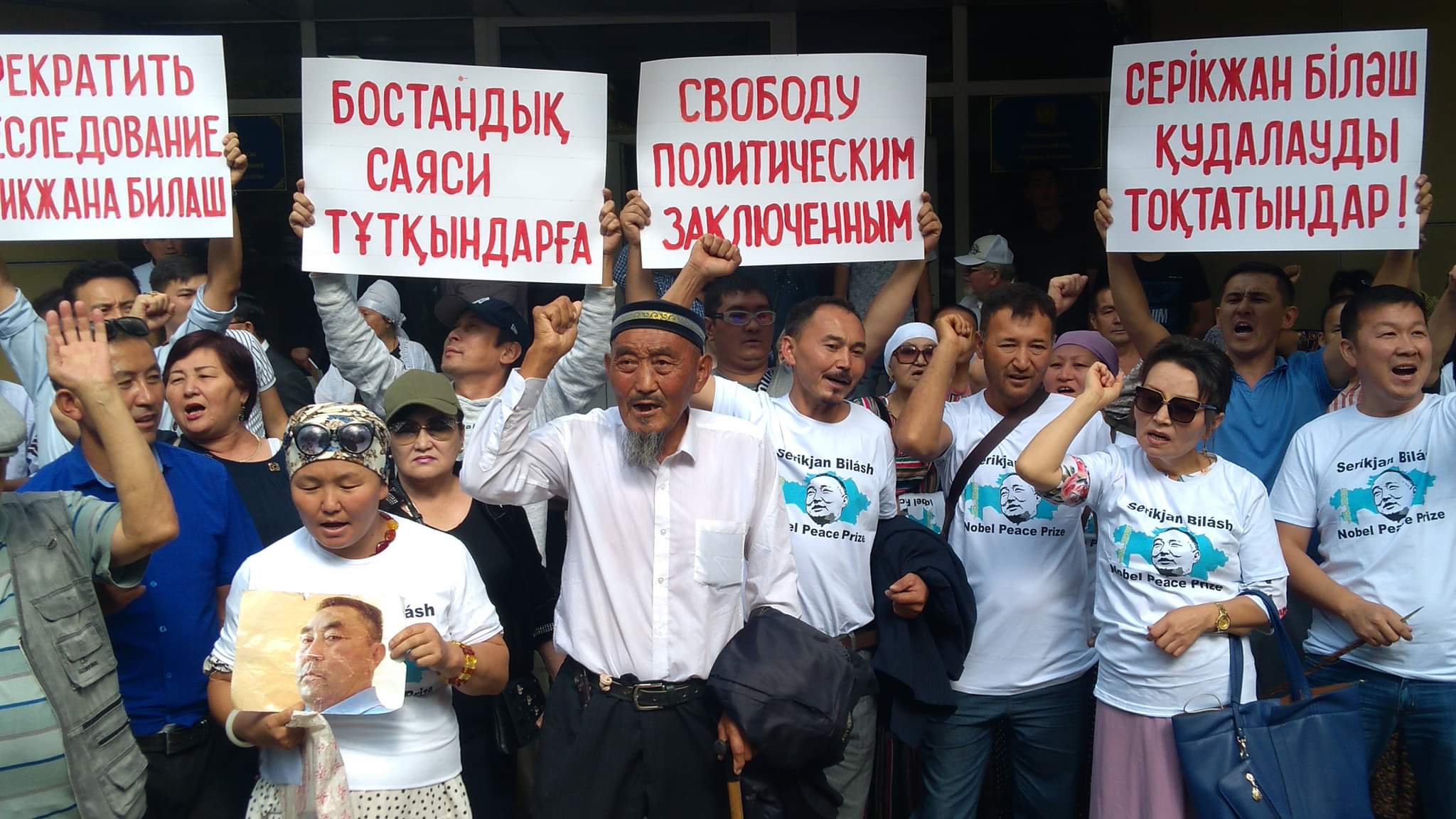 Sarsenbai argues that the prospect of being uprooted from a familiar environment and parachuted into harsh, Russian-speaking regions, "is a betrayal of our people, who are still not provided good conditions for their return after 30 years."
For decades, newcomers have also been the target of accusations of unrest from political elites.
After the mass protests of January, the blame was not too far from falling on them again, according to Sarsenbai. "In 2011, Timur Kulibayev (the son-in-law of former President Nursultan Nazarbayev - ed.) said that protesters in Zhanaozen were mostly returnees. And after the January Events also, some suggested the disorder was mostly caused by returnees. Why are they saying this? Where are the proofs? These accusations are just aimed at hiding the real political decision not to welcome them anymore."
In the oil town of Zhanaozen, in the western region of Mangistau, security forces suppressed an eight-month strike by shooting against the oil workers in the square on Independence Day in 2011. A decade later, in January this year, after a nationwide protest reached Almaty, President Kassym-Jomart Tokayev ordered its security forces to "shoot without warning" in an effort to quell the urban violence.
The only place to go
For anthropologists Zarina Mukanova, of the Max Planck Institute, and Rune Steenberg, of Palacky University, "the Oralman were actually seen as models and important contributors, admired to have retained the Kazakh culture and language more thoroughly than those in Kazakhstan. Yet, at the same time, the colonial stigma of backwardness and lack of development brought about by the Russians throughout the century before also came to be attributed to the oralman."
Returnees have kept feeling a weight of stigma on their shoulders. The weight is all the heavier as it appears to be increased by the authorities to fulfill their agenda and legitimize repression.
While laws are getting harsher on repatriates, Kazakhstan is no longer such an alien environment as it once was for returnees. "Now things are better, Kazakh language is more widespread even in the city and information about repatriation is more widely available. When I came, the only assistance came from our own acquaintances'', Yrysbek admits.
Among the first to return from China in the 1990s, Yrysbek expected hardships but was determined to call Kazakhstan home.
"By sending me here my parents sensed that there is no future for Kazakhs in China and the only future that we have as Kazakhs is in Kazakhstan. They sent me here with big hopes and dreams."
Their hunch was right. In the 2000s, the pressure on minorities in Xinjiang started to increase, according to Human Rights Watch. Now thousands of Kazakhs along with Uyghurs are being detained in so-called reeducation camps in Xinjiang, according to another Human Rights Watch report.

Last week, the UN Human Rights Council voted against a motion to debate a landmark report on abuses in China's Xinjiang region against Uyghurs and other Turkic communities, including hundreds of thousands of Kazakhs. For the latter, narrowing the opportunities to resettle in Kazakhstan could turn into a life sentence.
Matthieu Baudey is a freelance journalist and a PhD candidate in social sciences at the University of Tours, France.